Description
Idem Est Research publishes the most comprehensive mobile towers (cell sites) M&A Database including Precedent Transaction Comps. The database includes over 200 transactions compiled over the last 10 years.
The telecommunications sector is proving to be a core and essential digital infrastructure service to national economies, with data infrastructure becoming critical in a connected world and is increasingly attracting a new class of investors such as large infrastructure funds, private equity firms and sovereign funds. Mobile towers are a key infrastructure component of wireless communication. Increasing subscribers and data usage as well as new generations (5G, 6G,..) of mobile technology require a significant densification of networks and more antenna sites.
How Long have you been tracking this market?
The Idem Est Research telecom towers (cell sites) M&A database  includes over 200 transactions precedents from North America, Europe, Middle East and Africa, Asia Pacific and Latin America compiled over the last 10 years.
Who do we cover?
The analysis references the precedent transaction comps from all the major tower companies such as American Tower, Bharti Infratel, Indus Towers, SBA Communications, Cellnex, Crown Castle, DigitalBridge, IHS Towers, Mitratel, OCK Group, Phoenix Tower, KKR, Protelindo,  edotco, TPG, Brookfield, Helios Tower, Macquarie, Stonepeak, Eaton Towers and more.
What are the Metrics PUBLISHED?
The metrics included are acquirer, seller, date, geography transaction value, number of towers, value per tower, EBITDA, EV/EBITDA multiple data when available, allowing further analysis.
Why do we track Mobile Tower transactions?
Telecommunication companies are monetising their tower assets by establishing TowerCos and undertaking sale and leasebacks, sales (e.g. Telefonica to KKR), or listing these businesses (e.g. Telecom Italia listed Inwit, AIS in Thailand listed DIF). The cash flow profile of the TowerCo business model is attractive to infrastructure investors. TowerCos receive stable revenues under long-term leases (10+ years) from Mobile Network Operators (MNO) tenants. There are barriers to entry given low risk of overbuild due to local zoning restriction and high switching costs for MNOs given the complexity of networks. As a result, recent towers transactions have been aggressively priced by infrastructure investors.
Most incumbent MNOs still own a large proportion of the towers they use and there is likely to be more transaction activity in the pipeline. For example, Vodafone recently offloaded its portfolio of approximately 55,000 towers (mainly across Spain, Italy, Germany and the UK), while Deutsche Telecom  and Orange have created separate vehicles for their tower assets in preparation for a potential sale. Several infrastructure investors are all closely monitoring these developments, particularly those managers who already own tower assets and are looking at potential synergies to justify the high multiples these assets will likely trade.
What's included the Mobile Towers M&A Database – Precedent Transaction Comps?
The Mobile Towers M&A Database is delivered as a file (Excel format).
We also provide a slide show (Power Point format) template with the last major transaction that can be edited for your own use.
Click on the sample images below: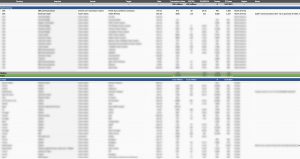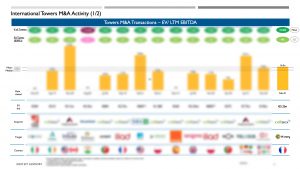 Other Idem Est Research Telecoms Country Reports
Australia, Bangladesh, China, India, Indonesia, Japan, New Zealand, Malaysia, Myanmar, Philippines, Singapore, South Korea, Taiwan, Thailand, Vietnam,
Asia Pacific Telecom Towers